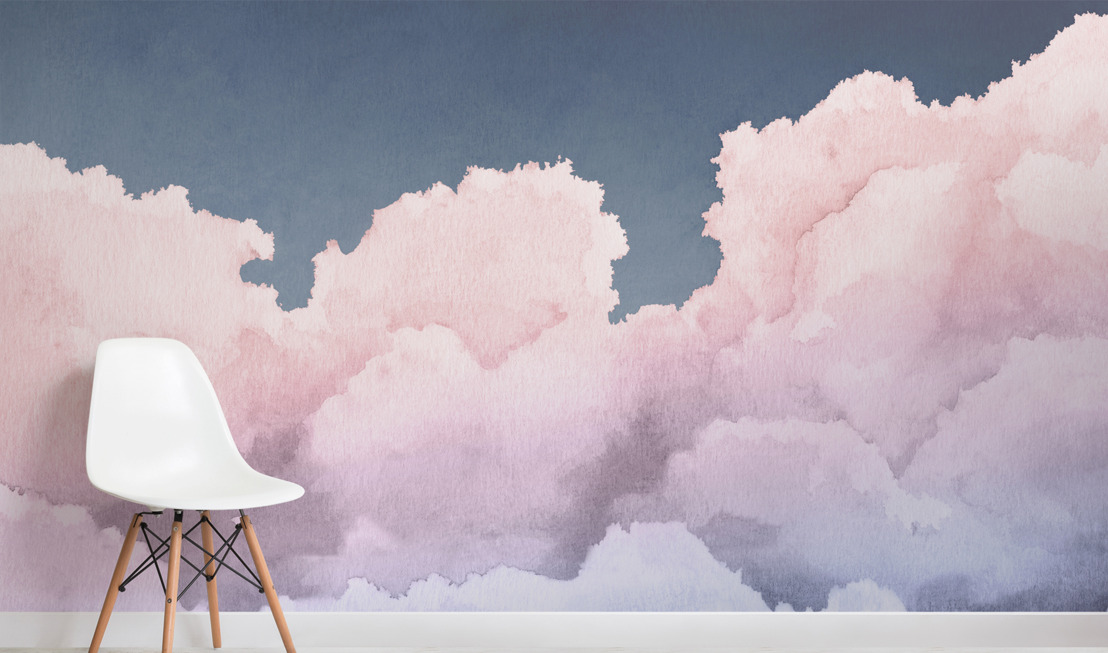 Soaring through the sky with MuralsWallpaper's Equinox Clouds collection
Hand-painted cloud designs take centre stage in MuralsWallpaper's latest collection, inspired by the upcoming September Equinox.
MuralsWallpaper's brand new collection, Equinox Clouds, celebrates the diversity of our skies, offering a sophisticated way to bring clouds to your interiors. Inspired by September Equinox taking place on Tuesday 22nd, when day and night will be equal in length around the world, and the seasons will change, the designs are inspired by different times of the day. From the soft blues of a clear morning to the fiery orange hues of sunset, the collection is a unique alternative to the usual photographic cloud wallpapers.
Clouds, much like florals, are a soothing way to incorporate nature into your home. The Equinox Collection has a delicate colour palette consisting of pastel pinks and lilacs, mellow oranges and twilight blues. The elegant designs are perfect for living rooms, mature bedrooms, home offices and children's rooms. Each named after a type of cloud, the seven designs are hand-painted, with a watercolour textured finish.
Starting in the day, Cumulus Daylight interprets marshmallow-like fluffy clouds, with dainty blues and whites. Cirrus Daylight is inspired by the thin and wispy clouds brought on by fair weather, painted in stunning pastel blue tones. Next, influenced by the burnt orange and pink tones of sunset, Altocumulus Sunset depicts layered clouds that you usually see before a thunderstorm. Cirrus Sunset brings the ultimate dreamy sunset - with a breathtaking blend of yellow, pink and purple washing over the sky. Dusky Dreams, named by the MuralsWallpaper Instagram followers via a poll, contrasts a soft pink woolly cloud with a brooding blue background for a striking effect. The final two designs in the collection honour night time skies. Cumulus Nightfall mixes a deep blue sky with paler clouds, showcasing the painted effect of the design beautifully. Lastly, Altocumulus Twilight symbolises a rare indigo sky, with stormy clouds.
Jess Howard, the designer of the collection, said:
"Inspired by the versatility of the skies at various times of day, the Equinox Clouds collection was originally hand-painted with watercolour before being captured digitally, ensuring that we didn't lose any of the paint texture. The collection is intended to transform any space - the designs could sit as a soothing piece in a child's nursery for them to grow up with, or be a statement conversation starter in a living room."
Product Details:
Cirrus Daylight, Cumulus Daylight, Altocumulus Sunset, Dusky Dreams, Cirrus Sunset, Cumulus Nightfall and Altocumulus Twilight are available to purchase now from the MuralsWallpaper website: https://www.muralswallpaper.co.uk/wall-murals/landscape-mural-wallpaper/cloud-wallpaper-murals/
All murals are made to measure and priced from £37.00 /m2.
For all press enquiries, please contact Leila Jones, PR Executive - [email protected].