Pantone Colour of the Year 2022 as bold wallpaper design
Hovia pairs the past four Pantone COYs with a matching wallpaper - including new 2022 colour 'Very Peri'
It's the reveal the design world is always ready and waiting for - the Pantone Colour of the Year.
Pantone announced their colour pick for 2022 as Very Peri, which is also a brand new Pantone colour.
This is the first time in 22 years that Pantone has fused together two existing colours to form their Colour of the Year.
Below, wallpaper brand Hovia summarises the Pantone COY picks from the past four years - including a matching Hovia wallpaper for each colour.
2022 - Very Peri
Pantone describes Very Peri as
"a symbol of the global zeitgeist of the moment and the transition we are going through. Very Peri illustrates the fusion of modern life and how colour trends in the digital world are being manifested in the physical world and vice versa."
Very Peri is a periwinkle shade of blue that combines blues with violet-red tones.
The colour is inspired by the virtual world, with Pantone noting influences such as the digital art community, the metaverse, and online gaming.
It exudes feelings of energy and excitement that encourage creativity and limitless imagination.
How will it work in interiors?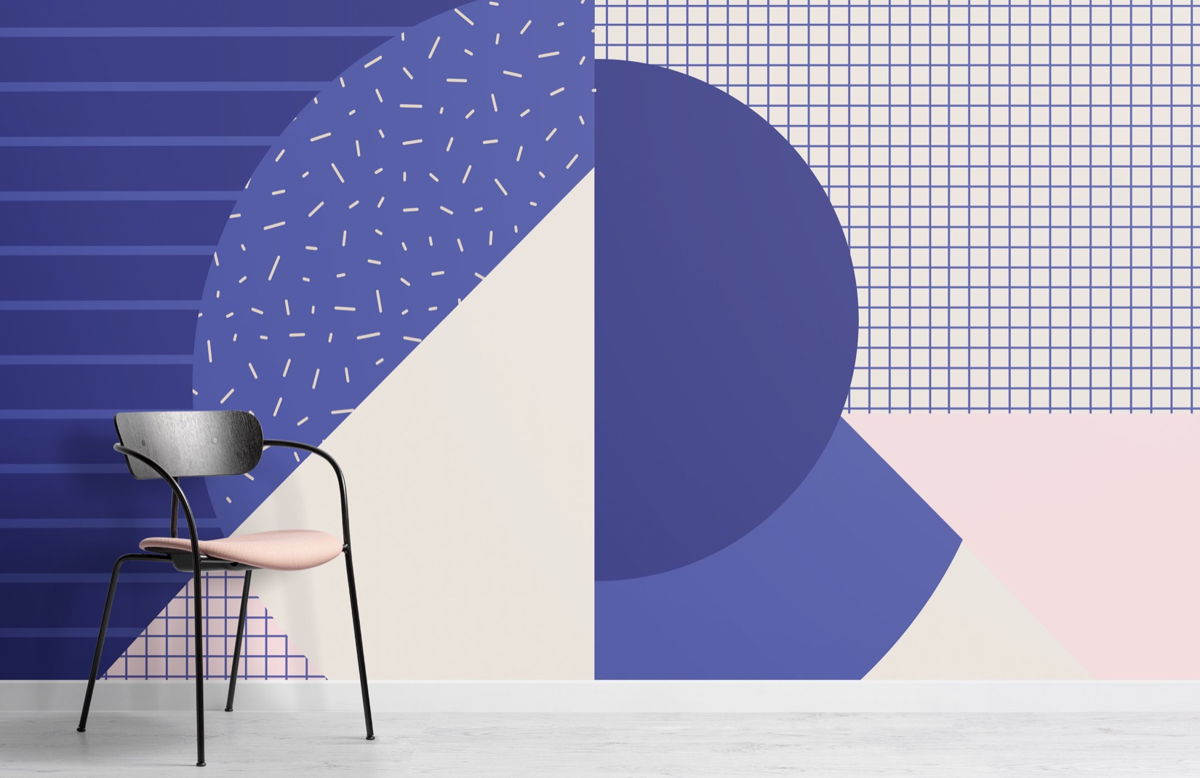 Metro describes Very Peri as "a nice accent to liven up all the neutrals" in our homes.
Hovia's Memphis Blues mural pairs violet shades with soft pinks and creams for a creative combination that is a mix of daring, dynamic, and familiar.
Catherine Jacob, Head of Design at Hovia, comments on Very Peri:
The colour isn't something we have used much of across our design range before. It feels like an especially fresh shade of blue (being a new colour for Pantone), and will be a fun one to explore in the home in areas like custom hue lighting, party decorations, and game-room accent walls.
It's a contrasting colour that goes against the sea of beige tones that we've been seeing recently. It offers a nice way to complement existing neutral interiors - especially as a statement piece in entertaining spaces, like the dining room."
---
2021 - Illuminating + Ultimate Gray
Pantone describes the Illuminating + Ultimate Gray combination as
"A marriage of colour conveying a message of strength and hopefulness that is both enduring and uplifting. It is a story of colour that encapsulates deeper feelings of thoughtfulness with the promise of something sunny and friendly."
The Petal Print wallpaper by Hovia is a minimalist Scandi-inspired design that features practical grey tones and pops of the optimistic yellow hue.
The colour combination feels welcoming and enduring. It's a popular choice for living rooms, as the shades are homely and uplifting when paired together. ​
---
2020 - Classic Blue
Pantone describes Classic Blue as
"a timeless and enduring blue hue, elegant in its simplicity. Suggestive of the sky at dusk, the reassuring qualities of Classic Blue offers the promise of protection."
Hovia's Dusk mural uses the Classic Blue colour to create an artistic paint design that feels timeless, simple, and elegant - reflecting the 2020 Colour of The Year's inspiration.
It works well in bedrooms as an intensely calming accent wall, and pairs well with both light and dark decor.
---
2019 - Living Coral
Pantone describes Living Coral as
"an animating and life-affirming shade [that] embraces us with warmth and nourishment to provide comfort and buoyancy in our continually shifting environment."
Hovia's wallpaper design Coral bursts with vibrant sea life illustrations. It includes the Living Coral shade, plus other similar hues.
It's an uplifting wallpaper for bathrooms and makes a refreshing colour choice for the room that is often overlooked when decorating the home.
---

Anna Fell Senior Content Executive, Hovia