'Newstalgia', 'Listening Rooms' and more: Desire for retro interiors keeps on rising
Design brand Hovia breaks down the retro revolution, and introduces the New Retro collection.
Why retro?
Since the beginnings of the pandemic, reports on a resurgence in retro decor styles started to pour in — from the likes of Architectural Digest, trend forecasters WGSN and more.
People were finding reassurance in nostalgic pieces, as well as bringing more meaningful items with a story and a personality into their homes.
Everyone's wanting to put more care into making the recreational areas of their homes feel more emotionally (and physically) comforting.
And for many, retro is the answer.
The stats
Apartment Therapy's home trend survey reveals that 20% of designers called the 1970s the ʻnext big' decade for inspiration, second only to the future (23%)
WGSN's social media research reveals that, during the pandemic, 3.95% of influencers interacted with retro themes, and social platforms saw a growth of 7% in likes and comments on retro related posts
WGSN also reports searches for 'retro decor' were up 139% in 2020 - 2021 (with dinnerware, seating, and wall collages being key categories of interest)
Younger and conscious audiences of Millennials and Gen Z (31% according to Chairish) report buying second-hand, vintage and antique pieces online
Vinyl sales are at a 30-year high
When Hovia's team of designers visited this year's Maison & Objet at Paris Design Week, they noted 'New Retro' as a key trend at the fair. In abundance were:
70s geometric patterns

curvy modular furniture

velvet and corduroy sofas

burl wood

large house plants

record players with modern redesigns

vinyls

rich earthy tones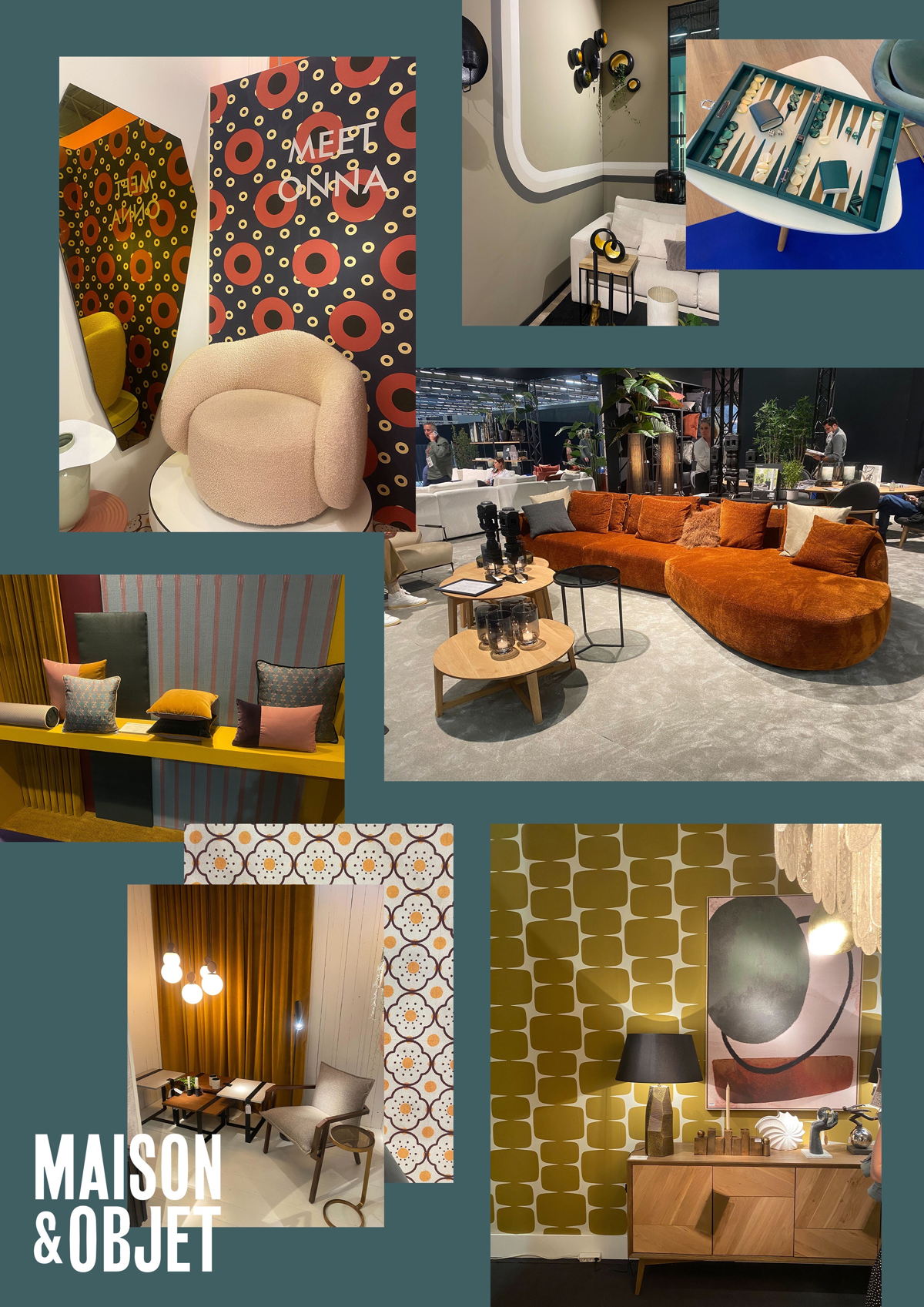 Three emerging trends
Listening rooms
AD calls listening rooms the 'next big thing'. They're dedicated spaces to listen to vinyl records at home — a pastime gaining popularity in the pandemic, in tandem with these other retro trends.
Newstalgia
The warmth of nostalgic decor pieces and the stylishness of contemporary elements, combined! Newstalgia sees people incorporating retro pieces that they love into their modern-style home.
70s influence
While 90s aesthetics have been having their moment in the fashion world and teen bedroom decor, WGSN TrendCurve reports that the 1970s is currently the most talked about decade on social media when it comes to retro styles.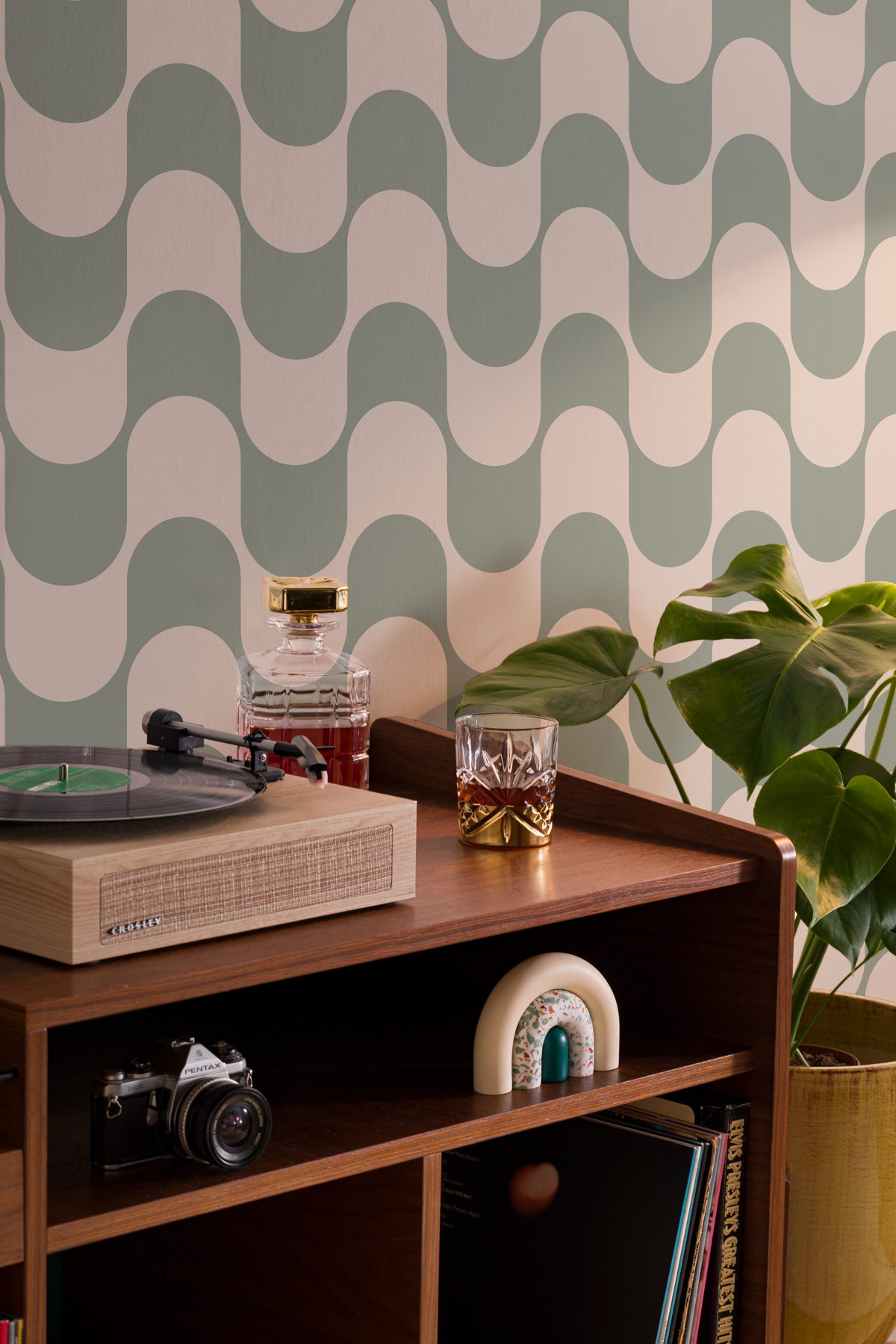 The wallpaper collection
Wallpaper designs with names such as Groove, Twiggy, Kitsch and Throwback make up Hovia's New Retro collection — which includes a mix of large-scale mural designs and repeat wallpaper patterns.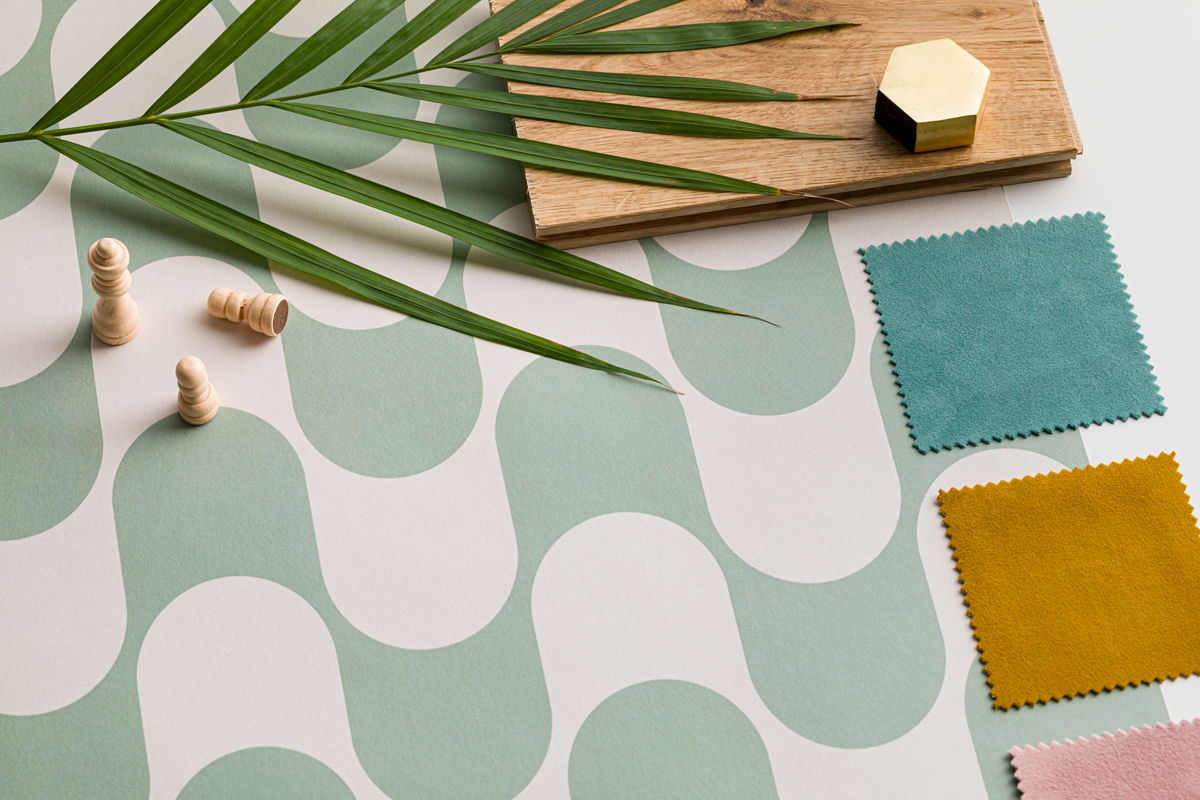 The colour palettes of the wallpapers range from cheerful pinks and oranges, to mature mustards and blues.
Peppy disco hues and rich, laid-back tones both have a place in retro aesthetics, so this collection grabs inspiration from both ends of spectrum to offer different designs for peoples' different interior moods and preferences.
The modern retro revival encourages saying no to 'fast homeware' and instead embracing more meaningful decor pieces made to last longer.
As as a carbon neutral brand with a strong sense of responsibility, this sentiment made retro resonate with Hovia as the subject of their newest collection.
'We don't intend for people to want to swap and change their Hovia wallpaper often. Instead, we hope people see their new wall design as a real part of their home that makes their interior feel tailored to the styles that they truly love.'
says Catherine Jacob, Head of Design at Hovia.
'We design our collections with longevity in mind. Macro trends may often inspire our wallpapers, but they'll have a timeless feel that can transcend each year's popular home styles. For trends like 70s retro, we want to take the best bits of the era and give them a contemporary finish, so they work in the modern age.'
The New Retro collection is now available at Hovia. Delivery is free worldwide, and takes 3-5 working days. Shop the retro range here.
All murals are custom-made and priced from GBP £39.00/m2 and USD $4.55/ft2
Wallpaper patterns are printed to order, and priced at GBP £117 and USD $177.60 per roll.
(Visit the Hovia website to view product prices in more currencies)
Hovia put the spotlight on retro trends throughout the month of September on their Instagram page — take a look back through their exploration at @hoviaofficial
---
Please contact Anna from Hovia ([email protected]) with any questions or requests.

Anna Fell Senior Content Executive, Hovia
---