National Stress Awareness Day: The science behind creating a 'mental escape' at home
Design experts at Hovia curate a selection of wallpapers based on stress-reduction research, and explore the future of wellbeing trends in interiors.
For National Stress Awareness Day (2nd November), decor design brand Hovia take a look into effects of nature imagery on stress, and how we can bring these learnings into our homes.
Can images of nature actually reduce stress?
The emotional, existential, and cognitive benefits of being in nature are well-researched and well-known.
But there's also evidence to support the idea that natural analogues and even images and photographs of nature can help relieve stress and improve moods.
CNBC interviewed psychological sciences professor Sandra Sgoutas-Emch, who revealed:
"There are studies that show that looking at pleasant images can provide a type of mental escape for individuals during times of moderate stress."
Let's get into the research: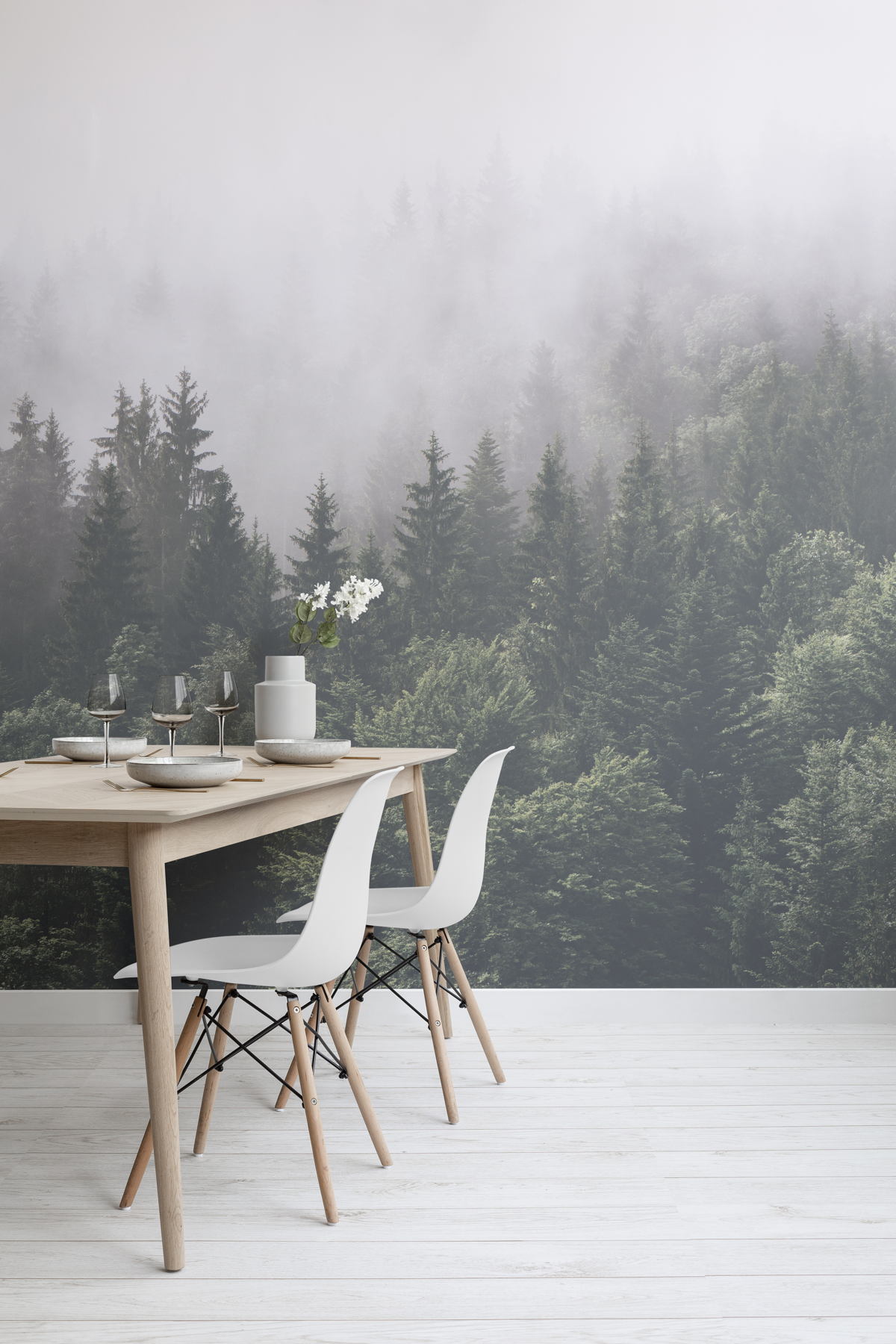 In a paper titled The Mood-Improving Effect of Viewing Images of Nature and Its Neural Substrate, researchers found that
"viewing images of nature increased comfortableness and relaxation compared to viewing images of built environments"
They concluded that viewing images of nature might improve mood by reducing activity in the orbitofrontal cortex (one of the regions of the brain that is most affected by stressors).
Another study also discovered that viewing pictures of nature (like trees and fields) helped people recover from symptoms of stress in the nervous system significantly more so than viewing photos of man-made urban areas.
Research on the effects of blue-green spaces show results of positive wellbeing associations with connectedness to green nature and blue coastal spaces, too.
5 wallpaper types to improve the mood
Here, Hovia's designers and trend researchers have rounded up some of their favourite landscape murals and best-selling wallpapers. They all depict natural places, things, or formations that connect us to nature, help relax the mind, and set a stress-free mood.
Forests
Whether it's a real woodland landscape or a painted sea of trees, a wallpaper that envelopes a room in a green forest setting can be transformative.
Shop Heartwood mural
Shop Tylöskog mural
Fractals
Patterns and shapes that occur in nature are innately pleasing to the eye. These wallpaper examples show a pattern inspired loosely by fern leaves, and a photographic close-up of quartz crystals.
Shop Azolla wallpaper
Shop Essence mural
Earth
From mesmerising rock formations to the contours of the land. These are two mural designs: One inspired by the natural flowing movements of sand, the other by warm desert tones and views.
Shop Seismic Sand mural
Shop Kalahari mural
Ocean
Not only is blue a calming colour, the ever-present natural ebbs and flows of water have connected humans to the planet for as long as we've lived.
Shop Adriatic mural
Shop Dana mural
Mountains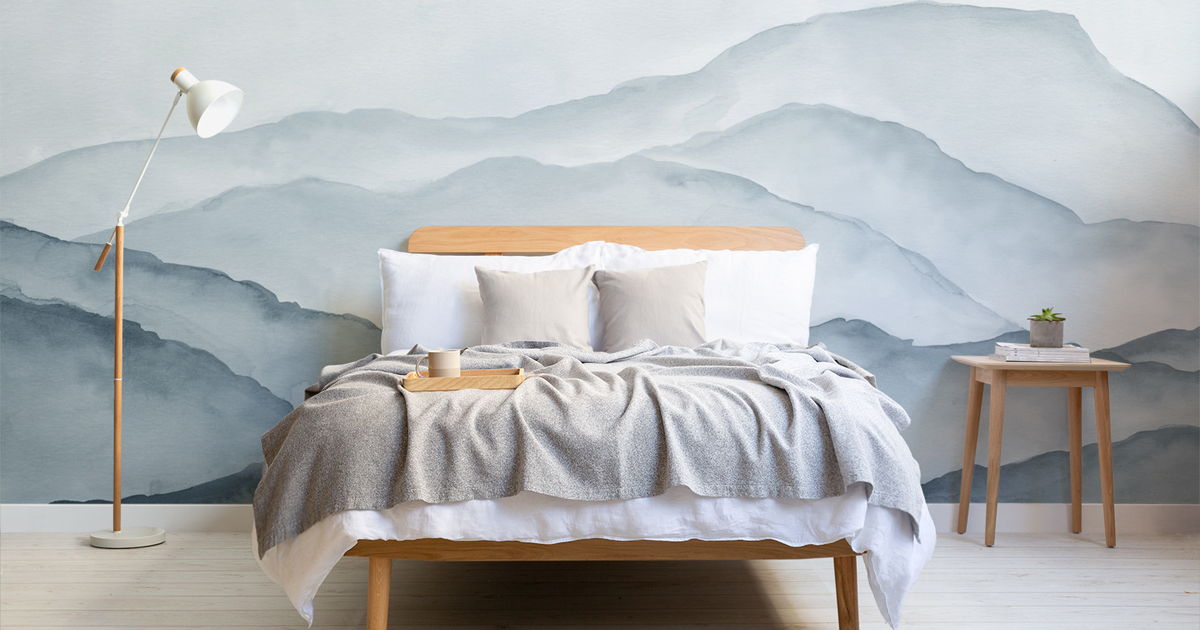 Mindwell Design has this to stay about the importance of 'neuroaesthetics' at home, such as this nursery space (below) where they have chosen a mountain-inspired wall mural:
"The truth is the need for aesthetic experiences is hard-wired in our DNA. They are fundamental to our health, well-being, and learning. From a young age we want this child to feel connected to the outdoors, experience different tactile environments, and react to color cognition. We encouraged imagination, wonder, prospect, and refuge through open mountainous landscapes, organic shapes, and sustainable and upcycled art."
Shop landscape murals, nature wallpapers and more at Hovia www.hovia.com
---
Interior trends that spotlight mental health
This year's Pinterest Predicts trend report highlights lots of home, fashion and lifestyle trends that focus on comfort, happiness, and mental and physical health. Including the likes of:
and
Interior decorating trends in general are putting more of a heavy emphasis on better mental wellbeing, such as these macro movements:
This trend emerged partially out of necessity during the global pandemic. Dedicated areas of the home to escape to and do hobbies, activities, and work have been incredibly important for most. Such as finding space to create a home office, or somewhere to practice yoga and meditation away from screens and noisy housemates.
We all know that potted plants have taken over as the must-have decor piece in every room of the home.
Nature is even moving into industrial spaces more, too, such as 'living walls' on the sides of buildings. Or indoor gardens, natural light and better air quality becoming more of a focus in office spaces.
Check out biophilic expert Oliver Heath and his all-encompassing book, Design A Healthy Home: 100 ways to transform your space for physical and mental wellbeing.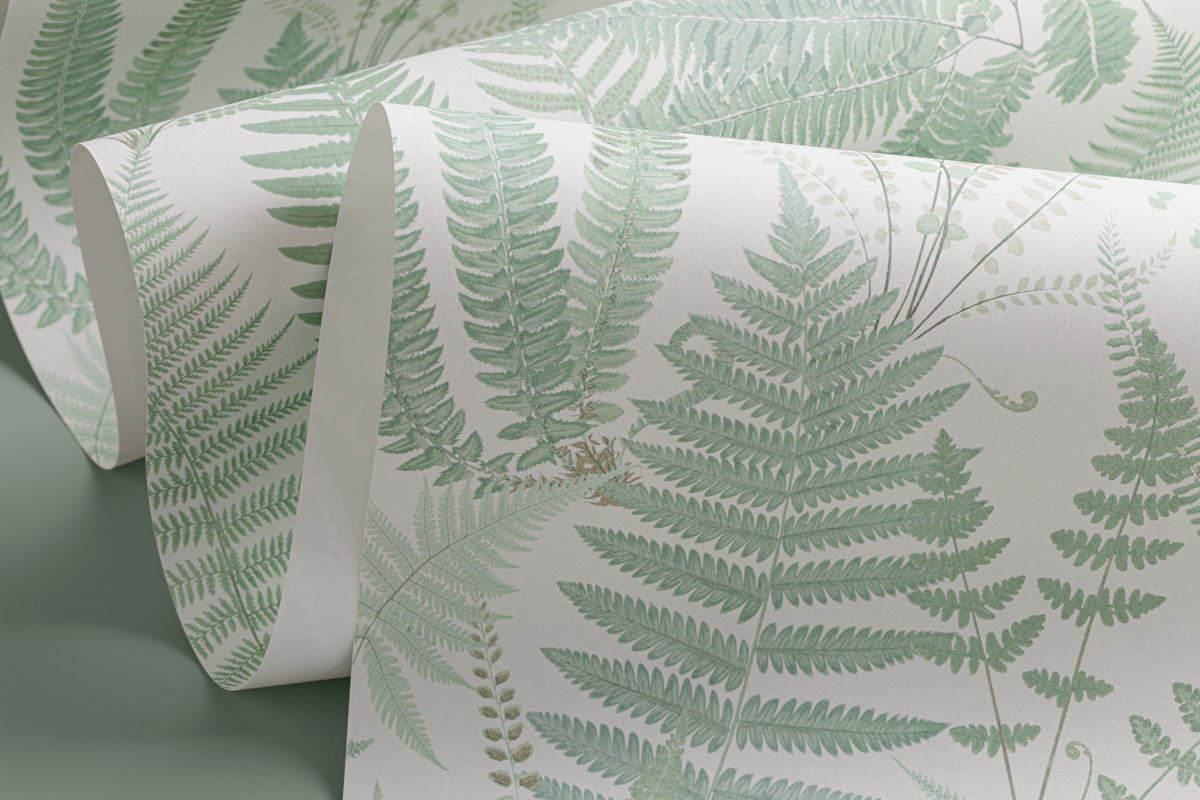 Top tip: Refresh your social feed
When you're not taking active breaks from social media, follow and contribute to some new hashtags that'll help promote and inspire a healthier home and mindset. Here are a few to get started:
---
Get in touch with Anna from Hovia below for any high res image requests, comments from the team, or pricing and product details.

Anna Fell Senior Content Executive, Hovia