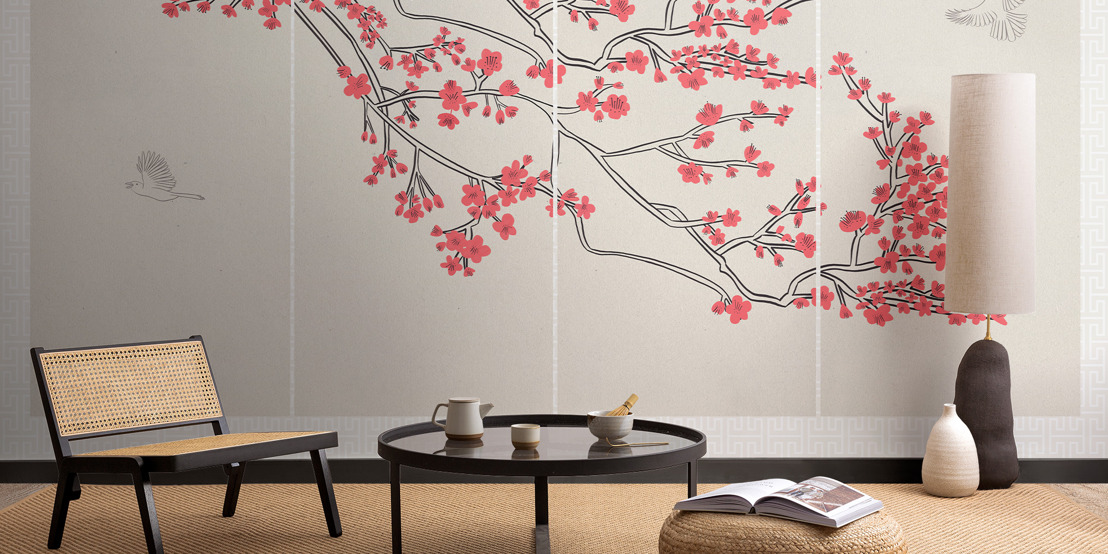 Murals inspired by Japanese design celebrate the start of Sakura season
MuralsWallpaper explores the influence of Japanese culture on interior trends in 2020 with two new mural designs.
Japan's Sakura season sees the cherry blossom begin to bloom in late March, and hanami ('flower-watching') festivities will be enjoyed across the country. Inspired by this historic yearly event and tradition, MuralsWallpaper celebrate the beauty of the blossom with a set of new designs influenced by traditional Japanese art.
About the designs
The panelled mural has been named 'Byobu', referencing Japanese folding screens. The design was developed to consciously emulate the decorative hanging scrolls and room divider screens found in Japanese homes.
The illustrated cherry blossom branches sweep down over four wide panels, featuring flying Lidth's jays (a bird native to Japan) and a delicate paper texture.
The design reflects a more traditional way of painting cherry blossom, using a vibrant red tone rather than pink. A repeat-pattern version has also been released, which offers a slightly different design concept.
Japanese trends on the rise
The 2020 Olympic Games will be held in Japan this summer, and the symbolic ceremonial torch has been crafted to match the outline of the cherry blossom flower.
The nation that hosts the iconic sporting event seems to have a significant impact on trends in design, art and interiors at the time. This was seen with Rio as the 2016 host inspiring a craze for tropical leaf prints, which are still very prevalent.
Now, with Tokyo hosting, Japanese design influences can already be seen all around. The 'Japandi' decor style in particular has become very popular.
Stylist notes
The wall murals are shown here in highly stylised rooms inspired by Japanese interior decor. The furniture is low to the ground and made with sustainable materials, and the neutral tones with black accents mirror the panelled mural design itself.
Pieces include a Rattan armchair, jute pouffe, matte ceramic lamp, pottery vases and handcrafted sideboard.
Product details
The Byobu panel mural and the repeat-pattern Renewal wallpaper are now available at MuralsWallpaper. From £37/m2: https://www.muralswallpaper.co.uk/wall-murals/flower-wallpaper-murals/cherry-blossom-wallpaper/
---

Anna Fell Senior Content Executive, Hovia