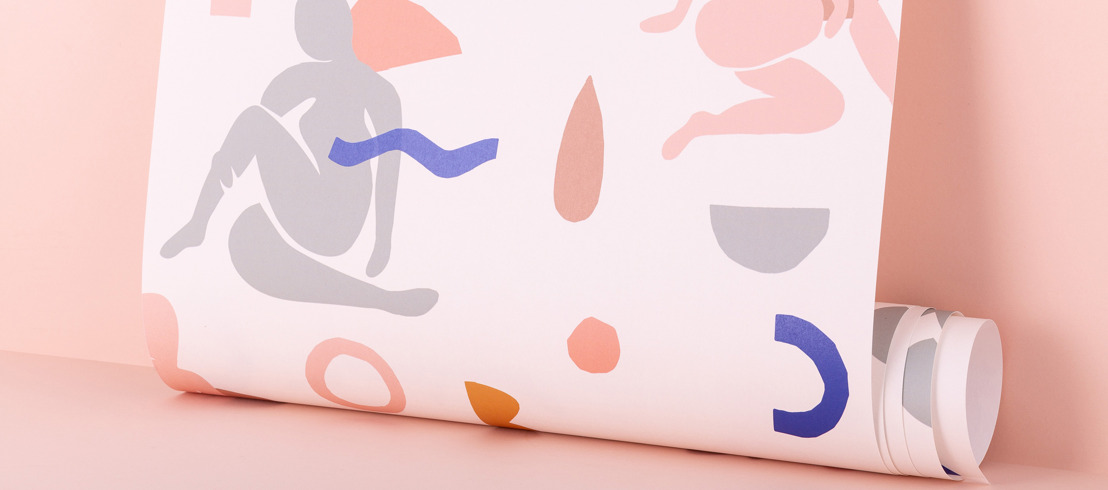 Matisse 150 year birthday celebrations continue with Blue Nude inspired murals
Curves and contours come together in the second cutout collection by MuralsWallpaper in celebration of 150 years of Matisse this December.
MuralsWallpaper round up their celebration of 150 years since the birth of Henri Matisse with the reveal of three designs inspired by the artist's famous 'Blue Nudes' series. This is the second of two collections by MuralsWallpaper marking the noteworthy anniversary, the first collection being Naive Shapes launched in May this year.
The new Human Form collection of designs adopts Matisse's iconic cutout technique but adapts it to create soft, curved figures, complementing the current trend of depicting the human body as abstract art in design and interior decor. The largely neutral colour palette of the murals combined with the large scale motifs result in a statement wall that manages to be gentle on the eyes and is a development of the aesthetic launched as part of the Scribble Faces mural collection in 2018.
With the trending earth inspired and drool-worthy tones of terracotta as the base palette, the murals also work in a blue tone WGSN are calling 'Electric Night', as 'a bridge between digital and natural references'. The blue is both a nod to the 'Blue Nudes' series and to the modern desire for surprising but liveable colour combinations.
The peaceful figures within the murals are arranged in a way that is suggestive of yoga, using restful, simple poses that lend the designs a soothing aura. The styling of the murals in perfectly proportioned, pink powder rooms reflects how application of colour, pattern and texture (alongside a growing confidence for individual expression in interiors), is slowly transforming what bathroom decor is to the modern home.
Product details
The Pose, Figure and Posture murals are £36.00 per square metre.
Available at: https://www.muralswallpaper.co.uk/wall-murals/abstract-wallpaper-murals/
Email [email protected] with requests or proposals and they will be happy to help.
Stylist picks
Celestine Basin and Felix Vanity Unit by London Basin Company, Pegase Terrazzo Basin and Teak Suspended Washstand by Tikamoon.
---

Anna Fell Senior Content Executive, Hovia