Hovia's new checkerboard wallpaper collection puts a twist on the trend
Check patterns are this year's hot print - spy them all over your social feeds and magazines. But will you welcome them to your walls?
The trend
Are emo and punk aesthetics of the early 2000s the new retro?
These rebellious styles are dripping with newfound nostalgia, and checkerboard is the era-defining pattern that's wiggled its way into modern fashion, beauty, design, and decor in a big way this year.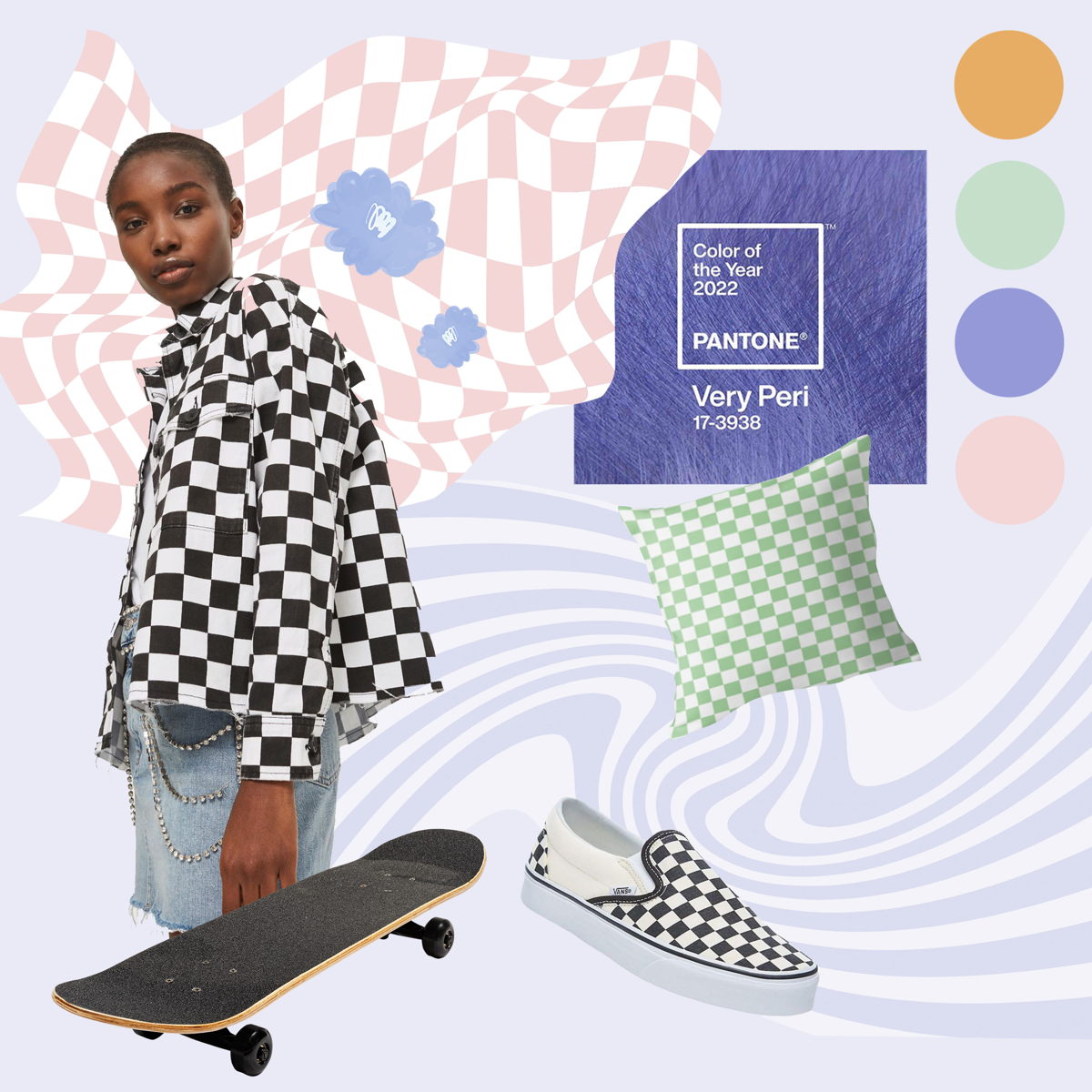 Pinterest puts a spotlight on checker patterns in their Pinterest Predicts 2022 report, with search terms like 'checkerboard pattern' trending +160%.
Influential fashion and lifestyle publications are all praising the return of the checkers, too. Refinery29 editor Georgia Murray writes,
checkerboard has emerged as the coolest pattern on our Instagram feed of late, popping up everywhere from interiors to beauty as well as our wardrobes.
The resurgence of this pattern's prominence comes in different styles and colors. And design brand Hovia takes a digital approach with their latest wallpaper collection, inspired by Gen Z's adoption of the checker trend.
The collection
This new mini collection of wallpaper designs from Hovia blends the digital world and the interior world.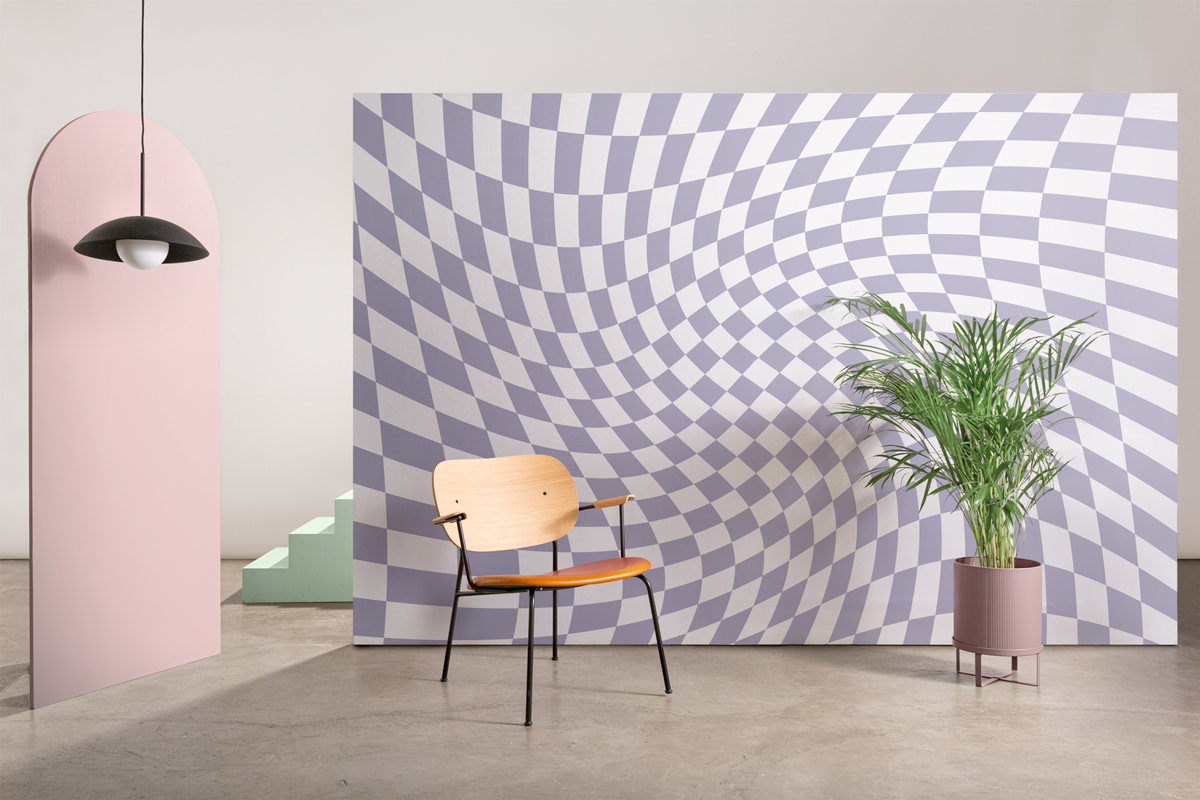 Glitch, Punk, and Ollie are custom-size wall murals that reference digital art aesthetics, indie interior decorating, and Y2K fashion styles that younger generations are turning into big trends online.
The warped, distorted designs take the checkerboard trend to another dimension, and offer a bold new way to decorate with checks.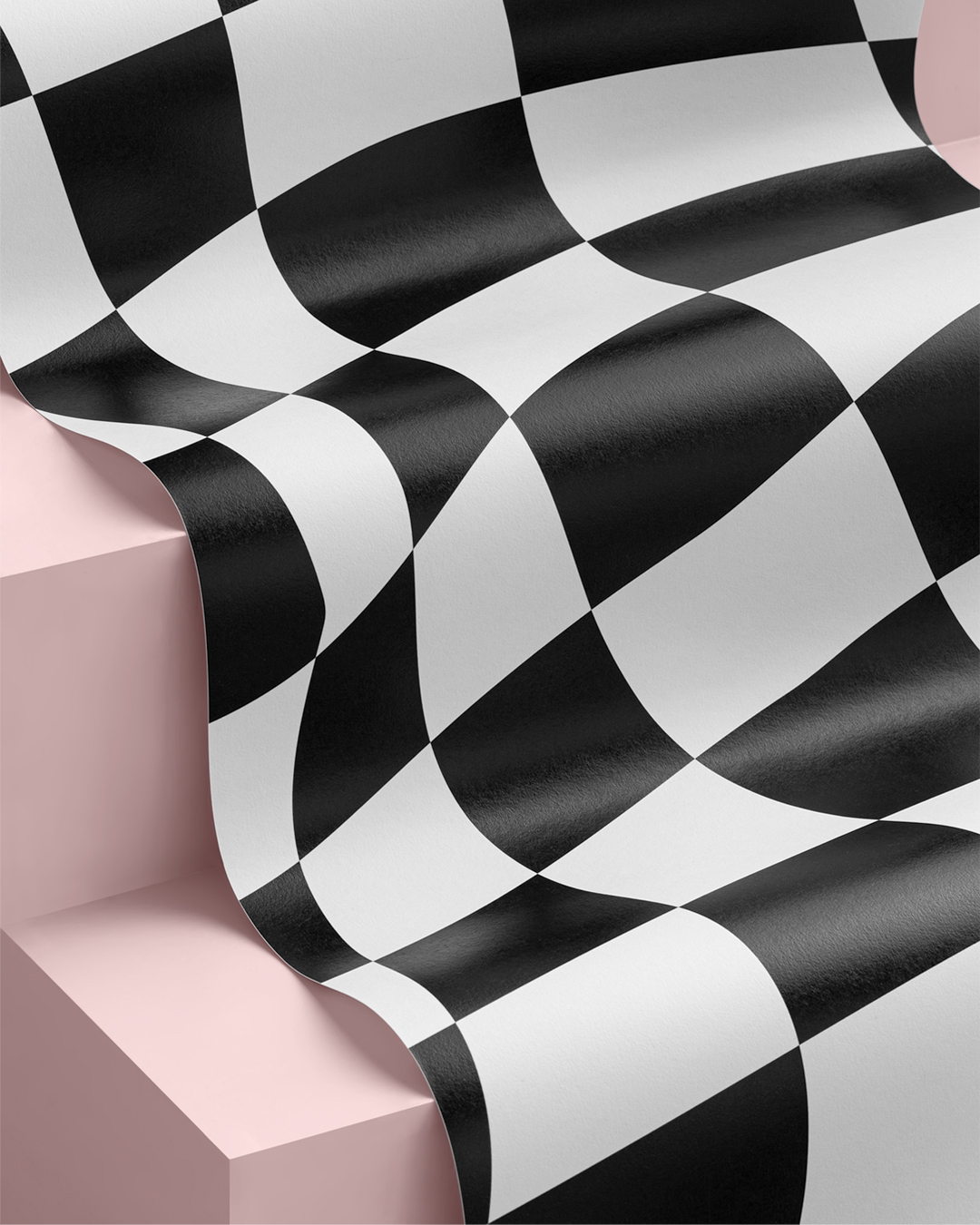 The collection includes a more traditional version of the pattern, too. Checkmate (below) comes by the roll, and features a modern pastel pink tone.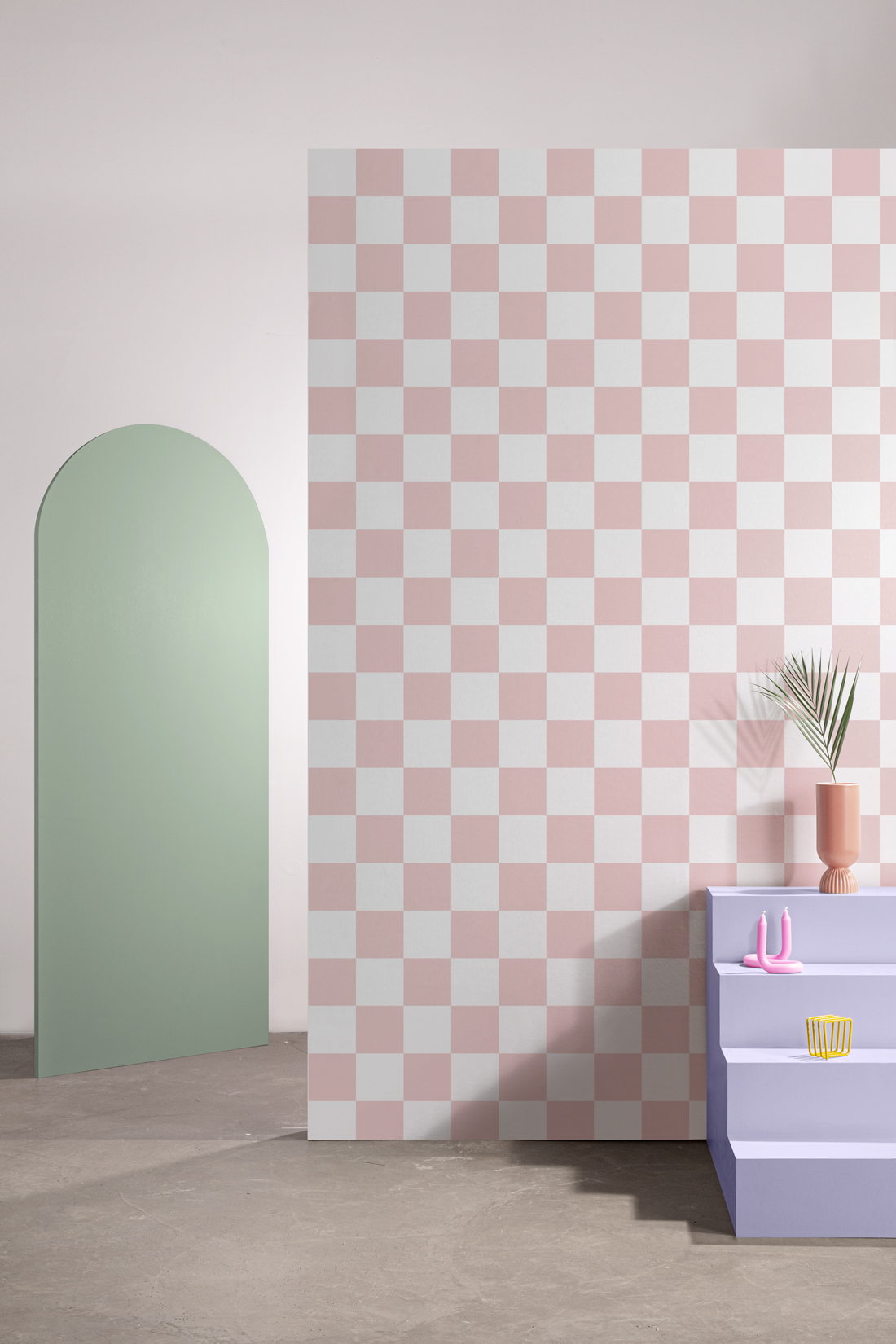 The colors
With more than 32 million #pastelcolors posts on TikTok, soft palettes of diffused pastel hues paint a picture of the lifestyles and interests of the young generations.
It's become obvious that nature-inspired greens are Gen Z's answer to Millennial Pink, too.
Lauren from Hovia (the designer behind the new collection) comments on her color choices:
The soft pastels have a very modern, digital feel to them. I've used Pantone's color of year, 'Very Peri', for the Punk mural design. As well as a popular green shade this year for Ollie, which seems to be resonating with Gen Z.
Black and white will always be a classic color combo for checkerboard prints as well, thanks to its cool skater origins in fashion.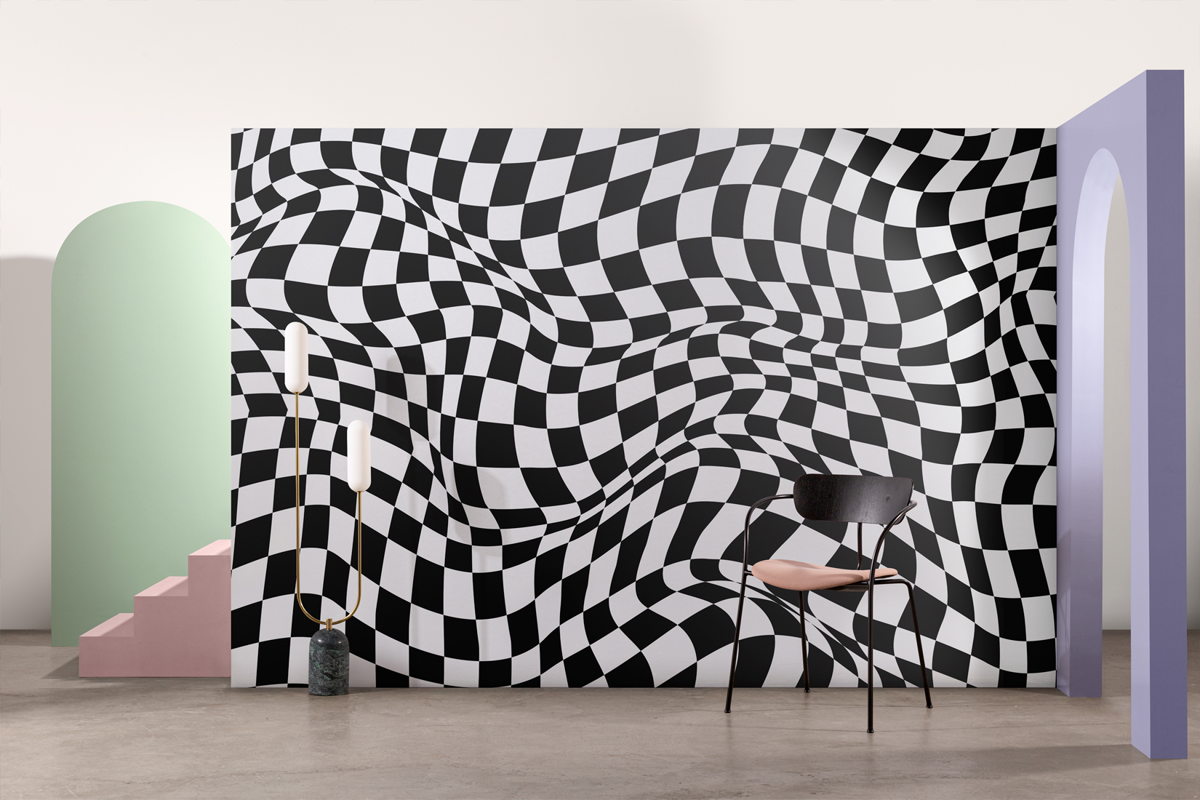 Designer Lauren also talks a bit about her inspiration:
Checkerboard prints have been really popular the past few months, branching off of the Y2K trends we've seen resurface over the past year. We've given the classic checker pattern an interesting twist (literally!) by warping the design - resulting in a liquid-like, morphed look. There's a bit of retro psychedelic design inspiration behind that, too.
---
Product details
Glitch, Punk, Ollie and Checkmate are available now at Hovia.com
The custom-fit murals (Glitch, Punk, Ollie) retail at:
USD $4.40 /ft2 | CAD $4.92 /ft2 | AUD $70 /m2 | NZD $75 /m2 | DKK 280 /m2 | NOK 343 /m2 | SEK 411.60 /m2 | GBP £37 /m2
The repeat pattern wallpaper (Checkmate) retails per roll at:
USD $146 | CAD $163 | AUD $216 | NZD $231 | DKK 863 | NOK 1057 | SEK 1268 | GBP £114
---

Anna Fell Senior Content Executive, Hovia